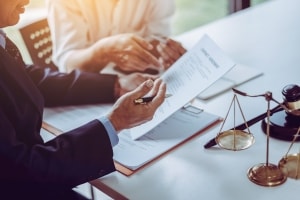 Businesses that fail to comply with federal and state laws that are designed to protect consumers and to ensure fair competition can be subject to lawsuits. These claims can be filed by the State Attorney General, the Federal Trade Commission (FTC) or by lawyers on behalf of consumers and competitors. Unfair or deceptive trade practice laws are aimed at giving consumers factually correct information before they buy goods and services. Unfair trade laws include false advertising with regard to the price and quality of the goods being sold or the services being provided, or misrepresenting important facts about a good or service, such as a shirt being labeled 100% cotton when it is not.
An experienced attorney can explain which laws apply to your practice and help you establish protocols to show your business is complying with the laws and giving customers honest, useful information. Skilled business lawyers also understand how to file claims against companies that breach unfair trade practice laws and how to defend companies from these complaints as well.
Deceptive advertising
Advertising includes online ads, brochures, flyers, newsletters, email campaigns, social media, and any form of marketing that is designed to help your business keep current clients and attract new ones. At the core, ads cannot be deceptive. Deceptive advertising looks at the overall way in which the reader of the ad will respond to the ad. Ads that promise more than the product or service provider can deliver are generally labeled deceptive.
The Federal Trade Commission and the State Attorney General have the authority to enforce actions against companies that make deceptive or false claims. These remedies include:
Working to convince the company to advertise honestly
Brining civil lawsuits on behalf of injured consumers
Seeking injunctions to stop unlawful practices
Requiring that the company take corrective measures to inform consumers of their deceptive ads.
Paying restitution or giving money back to consumers, paying the government's attorney fees and paying civil penalties.
Civil damages can include statutory damages in addition to the money the consumer lost. They may also include punitive damages, which can cost your company a lot of money.
Examples of deceptive marketing and advertising
Some of the methods businesses use to attract consumers that may result in litigation include:
Targeting vulnerable consumers. The elderly, minors, and people who can't speak English are considered vulnerable targets.
Making false representations. Some words are specifically defined in the relevant laws, regulations, or court decisions. For example, businesses need to be careful about using the word "new." Businesses need to be careful about making medical claims. Claims about ingredients and the composition of those ingredients must be truthful.
Making false endorsements. If endorsers are paid for their endorsements, the company needs to inform the consumer that the endorser has been compensated. Testimonials shouldn't be used if the client didn't use your product or can't support the language in the testimonial.
Being dishonest about pricing. If you make a discount offer, then you must honor the discount. Companies can't bait and switch – knowingly offer one price and then change the price or suggest the consumer buy a more expensive product once they come into the store. Offering a price reduction after you've increased the price of a product is deceptive.
Other examples of unfair trade practices include deceptive schemes to finance the purchase of the products and tortious interference (willfully interfering with some another company's business contracts or business operations).
Often, the best defense to federal regulation litigation is a good offense. Owners and operators should craft an in-house regulatory compliance program from the start.
At the Law Office of Perry A. Craft, PLLC we advise business and consumer clients on a full range of issues such as formation, contract negotiation, agreements with employees, franchising, and litigation. Our litigators represent business accused of unfair trade practices and violations of trade and intellectual property agreements. We also represent plaintiffs who claim other companies haven't complied with fair practice laws. For help with any business litigation issue, call the Law Office of Perry A. Craft PLLC at 615-953-3808 or use our contact form to schedule an appointment at our office in Nashville.