Sex-Based Discrimination and Sexual Harassment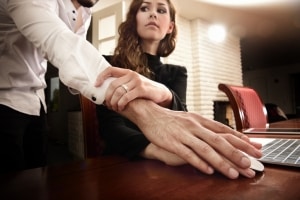 The law requires that employers and public institutions treat men and women equally in jobs and other opportunities.  The law promotes the idea that that the workplace advancements and other opportunities of any individual – male or female – ought to be based on a person's merit and accomplishment, not based on a person's sex or gender. Yet, recently, the media has reported that men in powerful positions in the worlds of business, media, and government have made unwanted sexual advances – and worse – to women.  Refusing to submit to the unwanted advance or advances may prove costly for the victim.  She may fear losing her job, not receiving a promotion, and/or finding her career or career opportunities torpedoed.  Often, the perpetrators are atop the business or government structure, and the victim feels the deck is stacked against her.
Sadly, sex-based and gender-based discrimination and sexual harassment are a reality.  No one wants to see their mothers, sisters, spouses, or friends subjected to this conduct.
Typically, the victims of sex-based discrimination and sexual harassment are women, and their perpetrators' actions – such as inappropriately touching the victims, making the victims endure sexually-charged comments over time, and conditioning the victims to receive a promotion or job after providing sexual favors – leave victims feeling used, exploited, and demeaned.
Sex-based discrimination and sexual harassment often occur in the employment setting.  Sex-based employment discrimination may involve hiring, training, assigning, promoting, paying, or firing women.  A refusal to accede to a demand for a sexual favor may cost a victim a job, a perk, and/or a promotion.  The explicit or implicit requirement is that the victim may keep her job, earn a promotion, and/or advance in her field only if she yields to the perpetrator's demand to engage in sex or stay silent when faced with vulgarity, inappropriate touching, suggestive comments, or other sexual come-ons.  Examples of sexual harassment abound and include sending or receiving sexually explicit or suggestive videos and emails, hanging inappropriate posters in the office, making sexual comments, and touching coworkers and clients inappropriately.
The law provides powerful remedies for victims who prove sex-based discrimination or sexual harassment. Remedies for sex-based discrimination and sexual harassment depend on what actions were taken and how they affected victims. For instance, if an individual is not hired or promoted due to sex-based discrimination, that individual may receive back payments, lost benefits, attorneys' fees, damages for emotional distress, for mental anguish, for assault, and for  battery, and more. To remedy sexual harassment in the workplace, a victim must notify and file a charge with the responsible government agency (usually the Equal Employment Opportunity Commission). The agency works through its administrative process.  If the harassment or discrimination is not resolved by that procedure, the victim receives a "right to sue" letter and thereafter files a lawsuit.
If you have been the victim of sex-based discrimination or sexual harassment in the workplace, know this: You have rights and legal remedies. You do not have to take it.  Stand up.  Do not be bullied or intimidated.   For more information, contact Nashville Attorney Perry A. Craft. He will fight for you.